My partner and I recently spent a week in Cuba in June, mostly in the apocalyptic-like old city of Havana. My research supervisor asked if we speak at a "soiree" at his house, and in preparation I gathered some of my thoughts here.
While I reveled in the history and politics, my partner is an artist and conversationalist, leading him to engage with the multi-layered city in a different way than I did. Two of the most striking aspects of Havana are photographic wall murals in the making…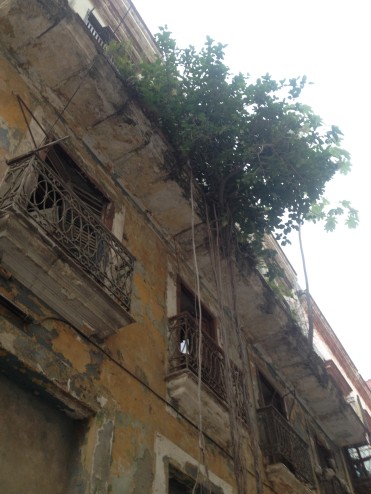 First there's the buildings, the mixture of magnificent old Spanish squares, generally a few levels high, some part of a new reconstruction project, others awaiting their make-over or demolition house large trees and ginormous vines that hang out of the windows onto the street. We worried about our safety as we first drove in. Soon enough we realised it was relatively safe. Appearances can be deceiving.
Secondly, in stark contrast to the river of grey and black SUVs that fill our traffic-filled lanes, the cars in Havana are as they say: take you straight back in time. American vintage cars worth god knows how much, beckon you for a drive – around the city, to the countryside or to the beach.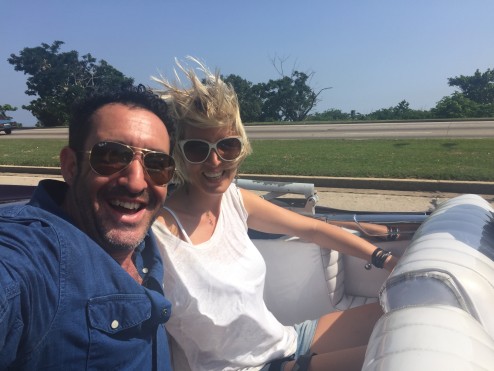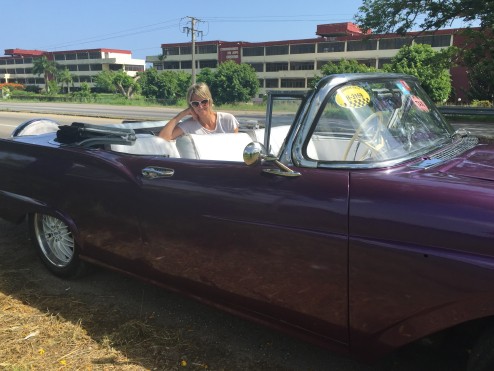 Hot pink classics toot their horns. All of them seem to carry white-skinned foreigners, driven by a darker skinned driver.
The opening up of Cuba's doors, since the collapse of the Soviet Union, is changing the landscape of the audaciously equitable society. In times past, lawyers and street cleaners earned the same salary. Id didn't matter what you did, each is contributing to "the party"  and each gets paid the same – the equivalent of US$20 per month salary. Translated into Cuban Pesos, a currency only for Cubans, this $20 goes much further for them than it would in any other country. However beyond necessities there's no space for a beer in the tourist restaurants or a fancy meal.
Cubans can now run small businesses, rent out habitacions in their houses, run cafes, restaurants and shops, and from foreigners they can make much more than they used to. Locals now sit outside the restaurants or approach you at the table, asking for money. US $1 is a twentieth of their month's salary, so it's not surprising they'd like more.
In the countryside one can see the historic equality in an even more striking way. While uniquely painted the houses are the same size and design, with two identical rocking chairs on each front porch.
People seem happy, yet also stiffed.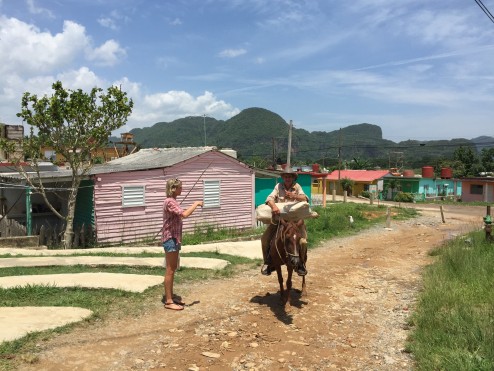 On one hand they have been set free through free education all the way to doctoral level, free healthcare, somewhere to live and an equal wage for all.
On the other hand the regime has imprisoned them in its equality: they are not allowed to question the regime, they have not been allowed to leave the country, and as Cuba slowly opens up on $20 per month it is very difficult to afford to.
How often do you see street workers watching one person take their turn with the work? Imagine a whole society with one employer! Inefficiency, bureaucracy and a lack of motivation pervade.
I deeply appreciate the sentiment of the Cuban Revolutionaries: to free the people of corrupt dictator, to empower the people. What happened?
Freedom is more than just a financial matter. It's more than education. It's also more than freedom to own property, as often emphasised in western societies.
Freedom is about freedom to participate – to shape one's own life story and to participate in the broader stories of society, culture, species and planet which we are a part of. I will write more on the revolutionaries in a separate blog…
What will happen to the aesthetics of Havana as Cuba opens up?
I hope they do not allow the export of the vintage cars, and I hope they keep some of the buildings untouched in addition to the restorations. I hope they can keep their values and their vibrant culture, while enabling more of the freedoms that Che Guevara's Pedagogy actually aspired to.
I hope they can bring in a democracy that is in better form than ours, one that is not corrupted by the media and its strings pulled by corporate interests and lobby groups…   
Money tips for Australians travelling to Cuba:
$AUD is worthless, unless you can find a generous tourist who will exchange with you;

Visa and Mastercards will not work in ATMs, but some cards work sometimes when you line up inside a bank;

Phone calls at $5 a minute so being on hold to your bank for even 10 minutes is EXPENSIVE!!!

Even the ANZ Travel Card fine print says it cannot be used in Iran, Syria, Sudan, North Korea and … CUBA.

Save yourself the hassle and bring $US, Euro or Pounds.
A few more snaps:
With our lifesavers and new friends, who very generously helped us out of our cash dilemma.