On 7th day of the 7th month, 2007, I met a person who would inspire a change in my life. He lit a spark of creativity inside me, and pointed to the possibilities that exist if you just fucking go. Soon after our chance encounter (and kiss), I stumbled across his blog www.nyc2rio.com:
On September 13th, 2007 we're driving out of New York City on an adventure through Central and South America, en-route to Rio De Janeiro.
Aside from making it there in one piece, our journey is about the experience of new cultures, following our hearts and living life the way we want to.
The world is in a fragile state and we feel we must make an effort to give back to the earth by living consciously, sharing love, life and happiness, to ensure the positive development of our planet.
We will be updating this site with more words, pictures and video of where we are, who we meet and what we're up to – so stay in touch…
Peace
Harley, Steve & Betty
With this opening paragraph, I was hooked.
A year or so later I travelled to South America myself. I didn't expect to find Betty (the kombi), but I kept my eyes open for her.
Eventually I did find her, and so much more.
The adventure inspired me to write My Brazilian: and a kombi named Betty, tracing my journey from Galapagos Islands through Bolivian Salt Lakes down to Patagonia, then back up to Iguazu Falls, Salvador and Rio for Carnaval. This travel memoir and spiritual journey is now seeking a publisher…
Meanwhile last Wednesday I travelled back to 2009 as I watched a screening of Harley's film One Drum. More than a film, Harley plays interludes of an original soundtrack live as he narrates Betty's journey from New York City to Rio's Carnaval.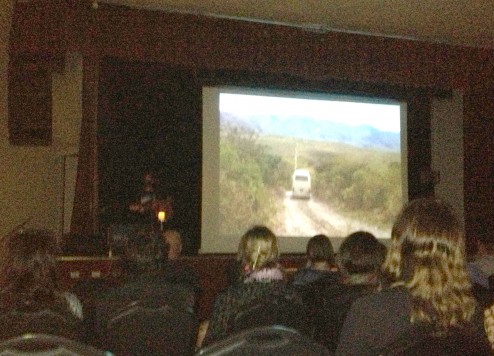 On the road Betty stops for Harley and Steve to chat with the people they meet about what is valuable and meaningful in life. These conversations hint that happiness is not found in material things, but in following our dreams, giving to others, and living in ways that will allow our planet to may remain vibrant and beautiful for generations to follow.
It was the sixth or seventh screening of his film, but the first time that Steve, Harley, Jack (their friend who joined for the last part of their trip) and I were in the same room since Carnaval in February 2009. We marked the occasion with a photo:
If you are up for a trip to South America without leaving Sydney then I highly recommend this refreshingly honest and creative use of music, philosophy and film. A reminder that the best things in life are often the most simple, and that the greatest adventures come from following one's intuition and convictions.
Harley is screenings/performing this wonderful show every second Wednesday evening in Paddington, Sydney. For more information visit the One Drum Facebook page.