Imagine millions of people on one street – dancing, singing, wearing bright clothes, drinking, kissing… that is Brazil's Carnaval. No exaggeration, it must be the greatest party on this planet. This year I've decided to throw my own little version of it in Oz: Carnaval in July.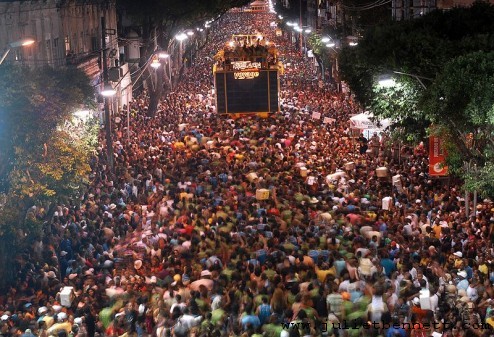 [1]
Ok, so I may as well admit it, it's for my 30th birthday. I'll blog about my (second) "quarter life crisis" some other time. Today I thought I'd use my blog to provide guests and anyone else who may be interested a brief introduction to Carnaval (intentionally spelled Portuguese way with an 'a' instead of 'i'), and a hint as to what guests of my Aussie version might expect.
History:
Briefly, Carnaval was somewhat imported from Europe – evolving out of the pre-Lent Balls held 46 days before Easter. It has deeper roots in a pagan festival that was adapted to Christianity as a way to farewell bad things / repent for one's sins. It started in 1600s in the form of small parties for the Portuguese elite, and has spread from city to city, increasing its duration and its numbers exponentially. It's great for the Brazilian economy, so why not? Go to the Brazilian Carnaval page on Wikipedia for more.
Carnaval in Salvador, Bahia: 
In the picture above you can see one bloco (the truck in the middle) that is playing music. The people in the centre of the road have tickets to the bloco party and will bop their way along with it for the next hour or two. Along the side of the roped areas are the pipoca (literally, popcorn). Inside the buildings that line the street, and in temporary constructions in front of others, people watch the parade from the sidelines in the all-you-can-eat/drink camarotes that line the sides of 25 kilometres of Salvadorian streets.
[youtube]http://www.youtube.com/watch?v=Fc2brVorYV8[/youtube]
This is what I felt when I was amongst it a few years ago:
"I couldn't help but think of us humans, once again, as ants. In the middle of an ant colony, I felt like a queen. Streets like rivers, people like particles of water, and the particle I encompass, a drop at the top of the fall. Veins inside a body, and I a cell observing from the heart. A solar system of solar systems, I a spot on the sun. Every face smiling and laughing. Everybody dancing, enjoying this moment. The party upstairs was small. VIP. The party inside the party inside the parade of parties inside the biggest party in the world. The littlest Russian doll in this Russian Doll of parties."[2]
Hard to beat? Yes, but Rio just might….
Carnaval in Rio de Janeiro:
Samba competition:
The more world-famous image of Carnaval is the huge samba competition that goes down in Rio:
"A colourful parade of samba floats, each with their own theme, passed through the stadium. From jungle themes, to dancing monks, to hell, heaven, native Indians, and everything in between. The dancing was incredible, the costumes were breathtaking, and the dancer's bodies — incredible. We danced from the stands. The competition starts late and finishes around 4 or 5am in the morning. Float after float, parade after parade. 'Carnaval — Rio or Salvador, which is best?' Steve asked. I shook my head. 'They are too different. Salvador is a parade of parties that goes for miles. But this is all those parties in one space.'
Like an ant colony to an anthill."[3]
Street parties:
Better still Rio has bloco parties running down various streets in almost every neighbourhood, with quirky names like "Imprensa que Eu Gamo" ("Press me and I'll fall for you"). The "popcorn" party-people follow the bloco down the streets, sometimes ending up at the beach for a swim, food, before joining another bloco. These street fiestas are free, beer from street vendors is cheap, the music is great, and the atmosphere can't be beat.
A sample of the craziness from "Me Beija que sou Cineasta" ("Kiss me, I'm a film-maker"):
Huh? Yes, random. 
Carnaval in July:
Based on the above, my adaptation will include:
Dress:
Tends to vary depending on the bloco. For Carnaval in July think American Halloween parties with costumes from pirates and policemen to devils, nuns and cross-dressers, masks, wigs, glasses and hats of all shapes and sizes. Pretty much anything goes, so long as it's wild, colourful and crazy.
Drink:
Street vendors sell Brazilian beer that goes down like water; creamy pineapple and cachaça iceblocks that are far more potent than they look; or mixed into caipirinha (with lime) or caipifruta (cachaça with crushed fresh fruits and ice). Açaí is like chocolate berries in an icy creamy smoothy delight… I doubt I'll be able to source any of this for Carnaval in July. Maybe next time… this time is BYO.

Food:
Food in Brazil is incredible, though I can't remember eating during the actual Carnaval parties. Everyday standard is rice and beans with beef and salad. I live above a kebab shop, will that do?
Music:
Mixture of samba drums, reggae, salsa, reggaton, pop, electronic, and more. Watch this famous Ivete Sangalo song Perere, and be ready…
[youtube]http://www.youtube.com/watch?v=pd0ZEy7a18o[/youtube]
Beijos:
Carnaval ain't Carnaval without them.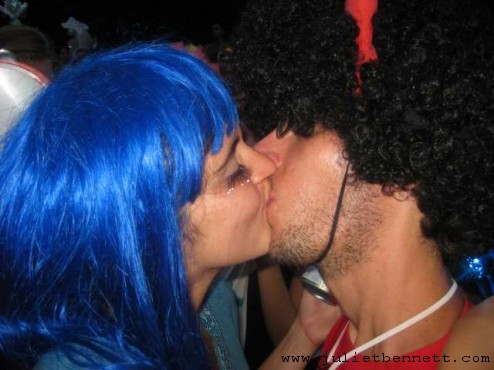 People & place:

I live in an awesome space with a big-ish courtyard, dance floors, bars and what-not… but it is still a limited. Hopefully a Goldilocks number of friends will turn up.
Maybe with the growing popularity of Zumba in Oz, and through that other Latin American dance, maybe just maybe one day Sydney will have it's own blocos and camelotes, street parties, (affordable) açaí, Brazilian street food… I hope so. Or better yet, I hope to go back to Brazil for more of the real deal. Until then my "poor man's" version will have to do.
[1] Creative Commons: This photograph was produced by Agência Brasil, a public Brazilian news agency. Their website states: "Todo o conteúdo deste site está publicado sob a Licença Creative Commons Atribuição 3.0 Brasil" (The content of this website is published under the Creative Commons License Attribution 3.0 Brazil)
[2] From Chapter 13.3 of My Brazilian (…and a kombi named Betty), by yours truly, publisher pending.
[3] From Chapter 14 of My Brazilian (…and a kombi named Betty), by yours truly, publisher pending.