My partner, a sculptural artist, and I, with my love of writing, have been thinking about ways we might create some sort of retreat from the city. As I read Alan Watts' biographies I have been curiously uncovering his two most unusual abodes: a communal mountain retreat with Gary Snyder, Catharine A. MacKinnon, Elsa Gidlow and others at Druid Heights, and an old ferry-boat named SS Vallejo with artist Jean Varda and other party-goers in San Fransisco Bay.
Druid Heights, Mount Tamalpais
"What do you get when you bring together a groundbreaking lesbian poet, a famous Zen philosopher, the founder of a prostitutes' union and the inventor of the self-regulating filtered hot tub?" writes Patricia Leigh Brown.
"The answer: Druid Heights — a once-thriving Bay Area bohemia deep in the forest, now moldering despite the best efforts of its residents, a few hardy holdovers from the counterculture, to maintain it.
Jim Wilson/The New York Times
Secreted away one and a half miles down a dirt road, Druid Heights is unknown to thousands of tourists who flock to the misty redwoods of Muir Woods, even as it comes under review by the National Park Service for recognition as a historic or culturally significant site.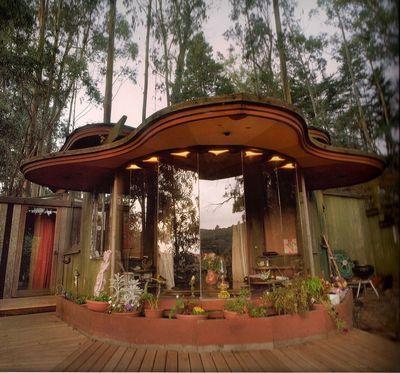 The philosopher Alan Watts, who died here in 1973 in the Mandala House, a circular work of architecture resembling a spinning top, wrote of this community's "numinous, mythological quality," which drew artists, writers, musicians and hedonists from 1954 through the early '70s.
Among them were the Pulitzer Prize-winning poet Gary Snyder; Margo St. James, who organized the union for prostitutes; Catharine A. MacKinnon, the feminist law professor who advises the International Criminal Court in The Hague on gender issues; and the lesbian poet Elsa Gidlow, whose ashes reside near the Moon Temple. Her guest room and meditation cabin still exude an otherworldly goddess aura."
Druid Heights was once a five-acre ranch formerly known as Camp Monte Vista Sub One. It was set up by Elsa Gidlow and carpenter Roger Somers. According to wikipedia: "Somers, influenced by Japanese architecture and American architect Frank Lloyd Wright, built many of the structures with unique furniture designed by Ed Stiles.[5] Gidlow was fond of organic agriculture and grew vegetables for the people in the community.[6]
Druid Heights was acquired by the National Park Service in the 1970s[2][3] and is currently under review for a proposed listing on the National Register of Historic Places.[4]
Watts wrote these journals on this mountain:
Check out the photos: http://www.nytimes.com/slideshow/2012/01/25/us/MUIR.html
S. S. Vallejo ferryboat in Sausalito
Built in 1879, and out of service after WW2, this old 37m x 9m ferry boat was bought by artist Jean Varda, surrealist Gordon Onslow Ford, and architect Forest Wright in the '50s. Wright sold his share to Ford, and they turned it into a houseboat, art studio and party place for the likes of Jack Kerouac among others.
Watts bought Ford's share of the houseboat in 1961. Varda's parties and salons continued. The most famous party, thrown in 1967, was known as the "Houseboat Summit", and featured  Timothy Leary, Allen Ginsberg, Gary Snyder and Watts discussing LSD. Many of Watts' lectures were recorded on this boat: http://www.alanwatts.org/collections.php

This aerial photo was taken by Ted Rose [owner of the white octagon houseboat] and Ford Kiddo.
Marian Saltman, who had begun living on Vallejo in 1971, arranged for its purchase in 1981, and began to restore the boat. She said, "I hope she will continue to be the home of remarkable people and ideas, and I wish her to serve the creative and artistic needs of Sausalito and the Bay Area."[3]
In 2001-2002 Vallejo was restored by Kiwi's and privately owned by someone who is now collecting its stories! http://www.vallejo.to/
photo by Heide Foley
I believe Watts recorded Out of Your Mind: Essential Listening from the Alan Watts Audio Archives
on board Vallejo.
References:
Brown, Patricia, Oasis for Resisting Status Symbols Just Might Get One, New York Times article published January 25, 2012
Wikipedia:  http://en.wikipedia.org/wiki/Druid_Heights
Stories on Vallejo http://www.vallejo.to
Wikipedia: http://en.wikipedia.org/wiki/Vallejo_%28ferry%29
Also note: if I have not credited the photographer/source it is because I have not been able to locate – please do contact me if any issues re copyright.