"My life amounts to no more than one drop in a limitless ocean. Yet what is any ocean, but a multitude of drops?" ― David Mitchell, Cloud Atlas
On the journey from Sydney to Paris I watched Cloud Atlas. Actually I watched it twice. And I still don't get it.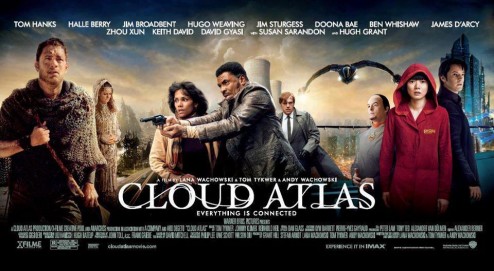 The film is six stories from six times that weave in and out of one another, with actors and actresses playing characters within the different times.
It is terribly confusing, but a clear picture emerges. A distinct pattern that repeats throughout the human story – a tension between  oppression and resistance, of cowardliness and courage, of the contribution of individuals in causing violence and pursuing justice.
The movie resonated deeply with me. I share the struggle of some of the characters, and I suppose of Mitchell, in  "trying to understand why we keep making the same mistakes over and over…"
My take home message (or take on holiday message, as it was) is captured in this quote:
"Our lives are not our own, we are bound to others, past and present. And by each crime and every kindness, we birth our future."
We may be only a drop in the ocean, but the ocean is maintained and changed by each and every drop.
Furthermore:
This might be a useful map (from wikipedia) for when I watch it for a third time:
| Actor | "The Pacific Journal of Adam Ewing" (1849) | "Letters from Zedelghem" (1936) | "Half-Lives: The First Luisa Rey Mystery" (1973) | "The Ghastly Ordeal of Timothy Cavendish" (2012) | "An Orison of Sonmi~451" (2144) | "Sloosha's Crossin' an' Ev'rythin' After" (2321) |
| --- | --- | --- | --- | --- | --- | --- |
| Tom Hanks | Dr. Henry Goose | Hotel Manager | Isaac Sachs | Dermot Hoggins | Cavendish Look-a-like Actor | Zachry |
| Halle Berry | Native Woman | Jocasta Ayrs | Luisa Rey | Indian Party Guest | Ovid | Meronym |
| Jim Broadbent | Captain Molyneux | Vyvyan Ayrs | N/A | Timothy Cavendish | Korean Musician | Prescient 2 |
| Hugo Weaving | Haskell Moore | Tadeusz Kesselring | Bill Smoke | Nurse Noakes | Boardman Mephi | Old Georgie |
| Jim Sturgess | Adam Ewing | Poor Hotel Guest | Megan's Dad | Highlander | Hae-Joo Chang | Adam / Zachry Brother-in-Law |
| Doona Bae | Tilda Ewing | N/A | Megan's Mom, Mexican Woman | N/A | Sonmi~451, Sonmi~351, Sonmi Prostitute | N/A |
| Ben Whishaw | Cabin Boy | Robert Frobisher | Store Clerk | Georgette | N/A | Tribesman |
| James D'Arcy | N/A | Young Rufus Sixsmith | Old Rufus Sixsmith | Nurse James | Archivist | N/A |
| Zhou Xun | N/A | N/A | Talbot / Hotel Manager | N/A | Yoona~939 | Rose |
| Keith David | Kupaka | N/A | Joe Napier | N/A | An-kor Apis | Prescient |
| David Gyasi | Autua | N/A | Lester Rey | N/A | N/A | Duophysite |
| Susan Sarandon | Madame Horrox | N/A | N/A | Older Ursula | Yosouf Suleiman | Abbess |
| Hugh Grant | Rev. Giles Horrox | Hotel Heavy | Lloyd Hooks | Denholme Cavendish | Seer Rhee | Kona Chief |
Picture comes from this site, with further breakdown of characters: http://www.cinemablend.com/new/Cloud-Atlas-Infographic-Explains-Karmic-Journeys-Movie-Characters-33823.html