On 2 May 2013, in Paris, my colleagues and I represented the Sydney Peace Foundation at the Australian Ambassador's Residence in Paris, where we awarded a posthumous Gold Medal for Human Rights to Stéphane Hessel for his life-long contribution to building a more peaceful and just society.
Stéphane Hessel was a German born Jew whose family fled to France who became a fighter in the French Resistance where he was captured, tortured and escaped execution by the Nazis. On returning to Paris Hessel became a diplomat and was a one of twelve members of the committee who drafted the Universal Declaration of Human Rights. As the French Ambassador at the United Nations in Geneva, Hessel promoted non-violent responses to conflict and made a stand against human rights abuses.
In 2009 Hessel published a short 30-page book INDIGNEZ-VOUS! (Get Angry! Cry Out!) that became an inspiration to popular protest, particularly the Occupy Movements, around the world. Buy it from Amazon for only $4! The most worthy and yet shortest read I have come across.
Under its English title Time for Outrage, Hessel encourages citizens of the world to find our "reason for indignation" and "join the great course of history," helping it to move "toward greater justice and greater freedom."
He acknowledged that in this "vast, interdependent world" it is not always easy to see whose actions are causing the problems. Yet he reminds us, "there are unbearable things all around us… Open your eyes and you will see."
Hessel describes two central challenges: "The grievous injustices inflicted on people deprived of the essential requirements for a decent life;" and "The violation of basic freedoms and fundamental rights."
The widening gap between rich and poor is a reason for outrage, "not only in the third world… but in the suburbs of our largest Western cities."
We must "not be defeated by the tyranny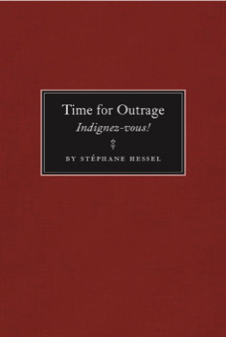 of the world financial markets that threaten peace and democracy everywhere."
Under the heading "Palestine: My Own Outrage" Hessel says, "Israel is not above international laws."
As a Jew, as a survivor of the Holocaust, and as someone who had visited Gaza and the West Bank many times, his outrage at Israel's cruelty towards the Palestinians is of particular significance. We must help others claim their rights and grip tightly onto our own—"we must never surrender these rights."
Hessel calls for: "a rebellion—peaceful and resolute—against the instruments of mass media that offer our young people a worldview defined by the temptations of mass consumption, a disdain for the weak, and a contempt for culture, historical amnesia, and the relentless competition of all against all."
Hessel believed in the power of people to make a difference.
Stéphane Hessel was originally selected to by the Sydney Peace Prize Jury to be the 16th recipient of the Prize in November. On 6 March 2013 before arrangements for this prize could be made, at 95-years old, Hessel passed away quietly in his sleep.
Following an address by Chair Stuart Rees, and a reception graciously hosted by Australian Ambassador to France Ric Wells, the Gold Medal was be presented to Hessel's widowed wife Madame Christane Hessel-Chabry.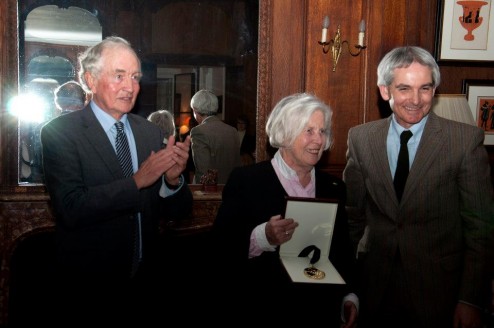 My boss, Em. Professor Stuart Rees (left); Madame Hessel-Chabry (centre); and Ambassador Ric Wells (right).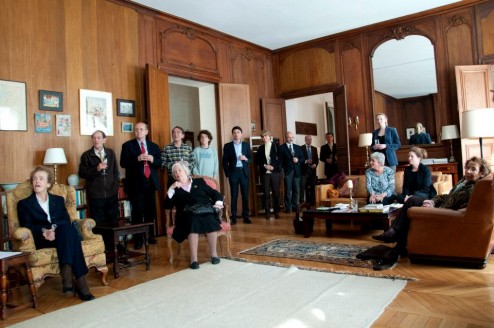 I was honoured to present a small gift – a silver necklace with dove pendant – to Madame Hessel-Chabry.
The Sydney Peace Foundation hopes that this award will help broadcast Hessel's words of outrage and hope, and that his legacy will continue to spread and inspire non-violent outrage around the world!
______________________________
Notes:
All quotes in italics are from: Stéphane Hessel (2010) Time for Outrage, translated by Marion Duvert, Hachette Book Group: New York.
The photo of Stéphane Hessel was taken by Marie-Lan Nguyen at Europe Écologie's closing rally of the 2010 French regional elections campaign at the Cirque d'hiver, Paris.
The second photos shows French Occupy protesters participating in a rally as part of the 63rd anniversary of the Universal Declaration of the Human Rights, on December 10, 2011 in center Paris.
This is an adaptation of an article I wrote for the May 2013 Centre for Peace and Conflict Studies Newsletter PeaceWrites which can be downloaded here: http://sydney.edu.au/arts/peace_conflict/docs/PeaceWrites_May_2013.pdf
______________________________
PS. Other highlights of my 4 days in Paris included coffee, croissants, baguettes, flan, wine, cheese, frogs legs, snails, art and love.
The perfect picnic under the Eiffel Tower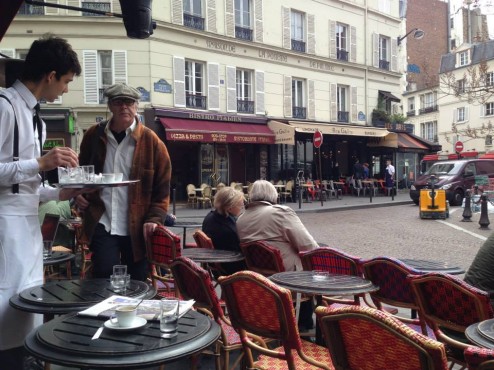 Morning stop for petit déjeuner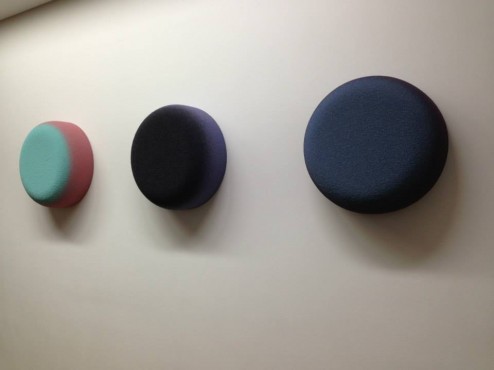 Pompidou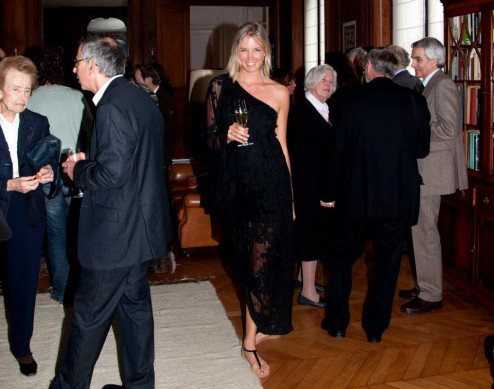 Final comment: the gorgeous dress that I wore to the ceremony in the Ambassador's Residence is of my sister's new collection: It will soon purchase from her online store Enough! by Nicole Bennett for $289.