There seems to be a great reverence for Gandhi throughout India. His face features on every rupee note, and his philosophy and practice of non violence gained a mention in almost every Indian speaker's presentation at the conference. "Truth is God", said Gandhi, dedicating his life to it. "You will not have peace, unless you love the truth," said one of the speakers.
While I was relieved my presentation was over, I did take away a number of fantastic messages from the conference. My favourite was from an academic from Nigeria who made the point that "peace begins with mothers" – when a child is brought up in a peaceful environment, they will not divert from peaceful values. "When you have peace in the home, you will have peace in the country, and peace in the world."
"The world is getting smaller, our horizons must get larger." "A peace army requires peace weapons, not weapons of war. What are peace weapons? Love, service, fate, prayer from all the religions, and truth." "We need to do more than respect diversity – we need to celebrate it." "The corporatisation of religion is the problem, not the religion itself. The problem starts when one's identity is consumed by it. The dogmatic authoritative beliefs are not innate – they are placed there." "Violence is not an action – it is a response, a reaction." "Our aim should not be to gain victory, but to come to mutual understanding." (Just to name a few of my favourite quotes of the day. I will have to wait till the papers are released to attribute them to the scholars appropriately).
Having filled up on yet another large buffet lunch of Indian cuisine and sweet desserts, my new friend Sunny (nickname for Mrinal) introduced me to his girlfriend Varsha who was about to go shopping with his mum. Let's face it shopping in a new city with local girls is an offer no girl in their right mind would miss. So I decided to play hooky from the last couple of hours of ceremonial peace conference, and jump in Varsha's car.
"No seatbelt," Varsha reminded me as I searched for something to tie me to the car before we hit my least favourite streets in our world.
Cities always transforms the second you are seeing it through the eyes of a local. What was scary and horrifying is normalized and shrugged off. The air-conditioned car seemed to block out the sound of the honks, leaving my senses free to peer out and observe, relaxed and (relatively) safe. My friend played dodgem cars with ease, chatting to me while she honked her horn yet still retaining her lady-like manner.
As I watch the streets I noticed that alongside cows, it's the dogs that live the good life. They own and roam the streets, seemingly more intelligent and free than half the population. Cows have it even better. And I see why: it's all in the eyes. No body in their right mind messes with the cow.
At a shop, a pretty and very petite Indian sales girl who looks younger than my 13 year old sister communicates and commands attention of someone much older. Curiosity gets the better of me – I have to know, so I ask. She is 22, and married. "That's what happens when they don't get enough nutrition as a child," my friend explains. She was tiny – in every way. There she is, without enough food, and here I am, with every meal: breakfast, lunch and dinner, a smorgasbord at my finger tips. I look down at my own growing belly. In three days I've put on weight already – I can see it. As if I needed to do that after the last few months of ankle sprains and chocolate binges while writing and editing and sitting on my ass. Each day at the conference I eat a big lunch thinking I won't eat dinner, and then friends insist I come with them for more food and drink. Each bite is enjoyable yet brings me one step closer to the well-known proudly rounded Indian body shape – well at least it's the body shape of the wealthy anyway.
They may be a conservative crowd – I have been warned that showing one's shoulders or legs being a big no no – but when it comes to big bulging stomachs that's the one thing you let loose from your dress. Midriffs show like Britney in the nineties but while Britney's abs (back then) were quite a pleasant site for the eyes, I'm not sure I can say the same about the women I see on the streets. There is something to be said for not caring, for being proud of what you have got, and not being obsessed with one's weight. It may be healthier for the mind, but I highly doubt it is healthy for the body. And it is definitely not for me.
After an afternoon of shopping, my new friends invite me to a small Indian wedding that is a couple of hours from the city. I readily agree – everyone knows to never turn down an invitation to an Indian wedding. This one is small, only around one to two hundred people. My friends, on the other hand, estimate theirs will be huge. By huge I mean around 2000 people!!! His father is well known. There will be many international guests. And I will be invited… wahooo! But it won't be till later this year, or next… that and invitations to Turkey and Nigeria are setting me up for another interesting trip.
As we drove to the wedding, I looked out at the huts and clothes and people sleeping at the side of a massive highway. "Why has the population gone from 200 million to 1 or 2 billion since the British arrived?" I asked my friend.
"Many reasons," he said, "lack of education for one."
"That's the reason they always give. But what did the British do to change their education? Surely it should have been rising just as fast before the British?"
"India used to be a rich country. Actually it is still a rich country, only it is inhabited by far more poor people than rich," he started to explain. "Poverty has never been so bad. The worse the poverty, the worse the education, and the more children. People have children because they think it will bring them more money. And then children don't go to school because they have to work for their parents. Not to mention lack of entertainment – the more poor you are, the more you rely on sex and of course they don't use contraception so… Also the religion and old caste system doesn't help. Girls in lower castes get married as young as 8 years old, and start having babies at 12. And then there's the face that medicines are brought to the villages, so people live longer. Oh and there's the prostitution cycles – children are basically bred for the sex trade."
The whole situation is heartbreaking. The population is incomprehensible. Officially sitting around one billion, with others making estimates it's now around two. And here I am looking at it through the closed glass window of my friend's air-conditioned car, driven by a chauffeur who has his own wife and children but who I am sure is more than grateful for his job and the generosity my friend gives him.
There are two worlds here: rich and poor. The poor work for the rich and the rich, I suppose, work for the richer. The gap is incomprehensible, and seemingly unfixable. You are born where you are born, and you deal with it. It's your karma. Apparently. If you are in the lowest class, getting paid pittence to do any job you can, it's your own fault. You did it to yourself – last lifetime or the one before. Maybe you killed a mosquito. Now you will pay for it. Bullocks yes. But it does make it easier to accept one's blessed or cursed fate. When did the caste system start? Did it arrive when the Persians invaded? Or was it already in place before that? Questions for me to research when I get home and have more internet time.
As I sit in the car watching, my heart breaks again and again. It is so so sad and so so hard to accept. The most painful wound is the stabbing guilt in my stomach adjoined to the constant feeling of relief and gratefulness that I am sitting on this side of the window.
"What's that smell?" I ask, as we stop for my friend to buy cigarettes.
"It comes from the sea," she explains. "The evaporation of the sanitary deposits that are made far too close to the city. During monsoon, the smell gets worse." Note to self: avoid monsoon at all costs.
The wedding was great – full of incredible costumes and strange and wonderful traditions.
We were tired and seeing as weddings ceremonies go on forever, we called it a night and drove home.
Bright and early the next morning, Sonny picked me up and with my camera in hand I saw the more touristy side to the city.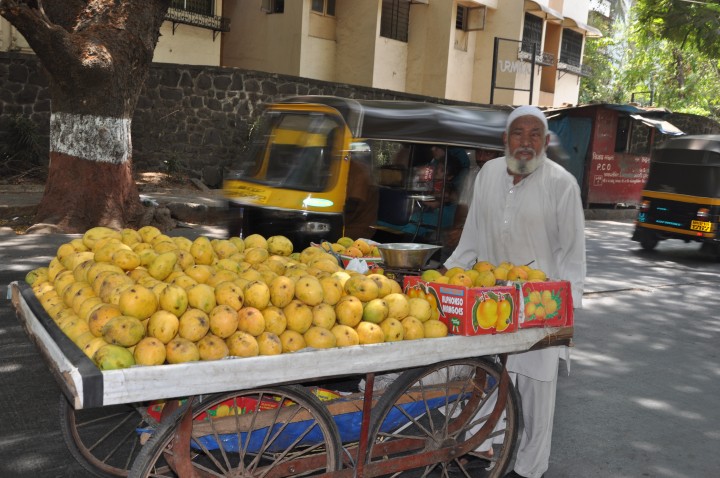 Now that's a lot of mangoes!
Coconut water was good. Not as good as Brazil (to be brutally honest), but still very good.
Apparantly a speeding fine equates to a 100 rupee bribe, that is, $2. Damn it, wish we had corrupt cops in Australia.
Cadbury is one of those companies that everyone claims as their own. I thought it was Aussie chocolate, Sonny thought it was Indian, but Google tells me it's British. Go figure.
This building is being built by the richest guy in the world, or one of the top three richest people in the world (I think my friends said.) Pretty impressive but imagine the great view of the slums – all those people your wealth could help…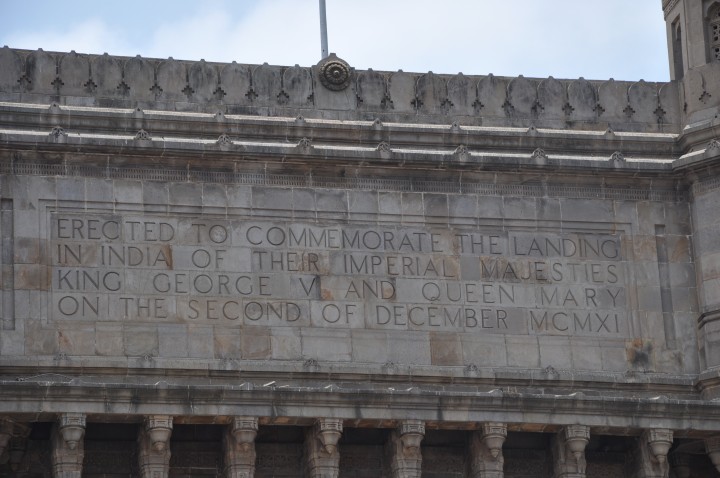 Gateway of India – "Erected to commemorate the landing in India of their imperial majesties King George V and Queen Mary on the second of December MCMXI" – it's beautiful but not such a nice memory for Indians, right? I wonder why it still draws so many tourists?
Feeding corn to the birds. Obviously.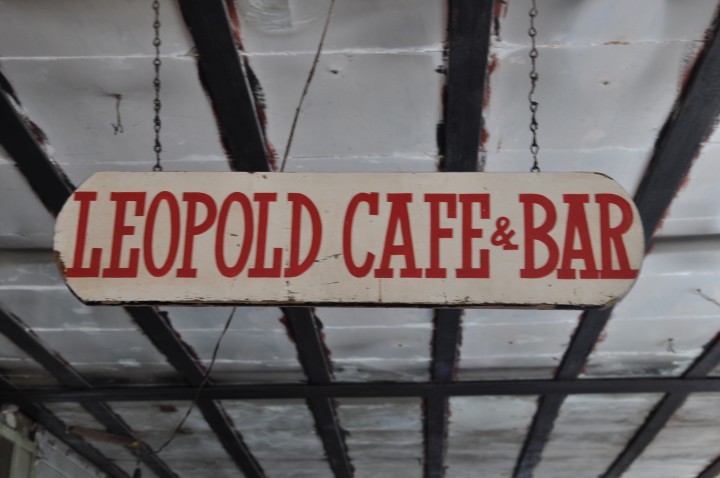 You all know I'm a big Shanatarm fan… so Leopolds was a must!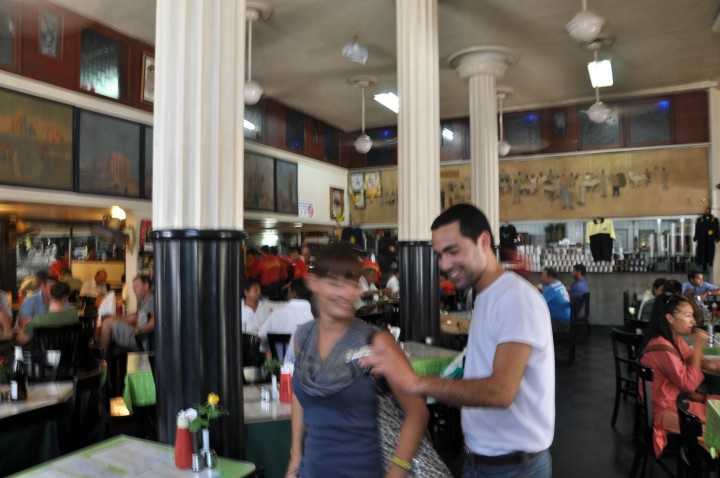 Sorry about the blur of my new backpacker friends met while sipping beer and chowing down chicken but the lighting in this shot shows Leopolds more than my other shots.
This boy had only one leg. He doesn't look it in this photo but he was very happy to have his photo taken. And he wasn't begging. God bless.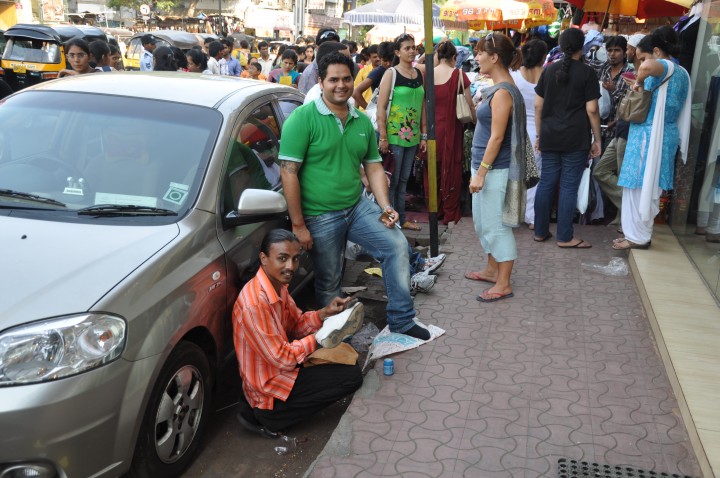 Sonny allowed this man, who spoke very good English and had come from the country to the city to find a job but failed, to polish his shoes. The man asked for only 10 rupees, and while chatting to him Sonny learned that if he had a special shoe-box this man could stand in a busier location by the train station and get far more customers.
"How much would a shoe box cost?" he asked.
"150 rupees," the man answered. When Sonny handed him a hundred rupees he was gob-smacked and tried to hand it back. Sonny insisted and eventually the man gratefully and graciously accepted.
"That's a better way to give," Sonny explained. "Help people on an individual level, and help them have jobs not beg." True, true, true.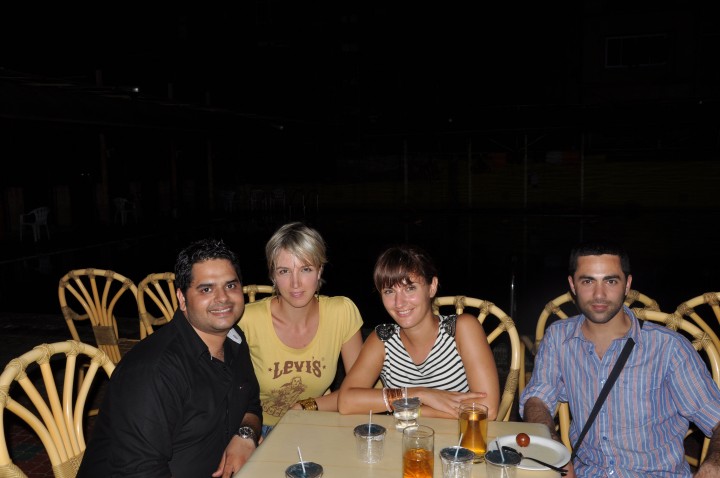 Alina and Joel, our new friends from Leopolds, stayed with us for the rest of the day. After markets and KFC, a glass of Rose in his apartment and a frantic shopping spree we dropped in to a last-minute invitation to a bollywood party. Free booze and more delicious buffet food – served around midnight by a stunning pool that due to my flash you can't see is behind us. What a day!
I want to say a very special thank you to Mrinal whose unmatchable hospitality and generosity caused me to love a city I first hated. And thank you to Varsha and your family too. Thank you so much.