I recently watched a show where "Elders" were asked what advice they would give to their 20-year old self. I imagined myself in my mid-to-late seventies being ask that question: what advice might my older self give to my present self? "Listen to your younger self".
By this I do not mean to advise one to listen to that insecure or arrogant version of you, in your teenage years or early twenties, but to listen to the optimism and openness of your earliest years of life, and which sometimes can be found later on too.
As children it is easy, we do not yet know the world's ills. As we get older, the state of the world can appear less changeable, less malleable, more violent and depressing…
But dig deep enough, somewhere inside many of us, is a voice of hope, of openness, and of unconditional love. That big-hearted you, who found joy in learning the colour of the sky and playing in the grass, is still you. I would advise my present self to seek that feeling, that openness, that optimism and to hang on to it for all of my life.
Surely there is a way to reconnect with that self? To open our selves up and let go of that which brings us down?
I have been browsing through my reflections, dreams, plans and notes to self, written in my mid-twenties. Almost seven years have past, but the words of advice from my younger self to my present self are ones that I will hold on to. Words inspired by books I was reading at the time and by my travels in my very early twenties.
Words such as:
The world is your mirror: if you are angry, you will see anger. if you are fearful, you will see fear, but if you are loving, you will see love.
You control nothing but your perceptions. Nothing can hurt you unless you give it power to.
Disconnect from the worry about what others' will think or say. Have own rhythm. No need to stress or worry. Do own thing and let everything else flow from there.
Never assume anything.
Don't take the little things in life seriously.
Have a strong mind and know that you can achieve any goal. Make goals. Don't let anything or anyone get in the way of achieving them.
Relax, laugh, don't stress or worry. Be organised – it will make it easier to do these things.
Be flexible in mind and heart. Follow the wind.
Life really is short. You can be in a car crash tomorrow. Therefore treasure and make the most of every moment of every day.
I am not sure what to do with the rest of these writings, dreams and ideas, but I think a few new blog posts are a good place to start…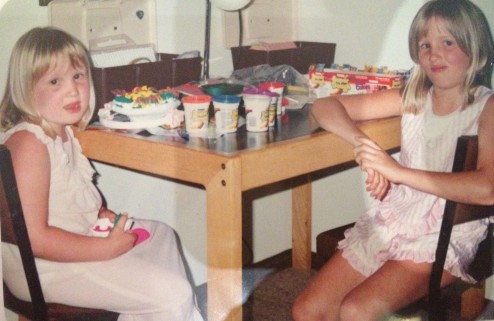 My cute li'l sister and I in our smugly ignorant optimistic past.
Note: You might also be interested in some of the advice that came from the panel of Elders: "If you want to be in touch with your humanity, you have to be outraged about injustice because the alternative is indifference" from Stuart Rees; to "don't be put off by put-downs" from Betty Churcher; "follow your star. Don't do what your mum and dad say, don't do what the market says, don't do what society says but follow your star" from Peter Coleman and from Jane Goodall, a piece of advice that her mother gave her at ten: "If you really want something, you are going to have to work hard and take advantage of opportunity and never give up."
The challenge is to put these encouraging pieces of advice into practice in the present…