After yesterday's encounter with Mr Moron, I mean, Mr Maroon, a religious fanatic arguing that Atheist's have no code for morality, I want to take a deeper look at ethics and morality from both a religious and secular perspective.
Given my research into the role of narratives in peace studies, I ask: What is the role of narrative in our ethics?
Mr Maroon was holding up his ethical code – the Christian bible – and asking for Atheists to hold up theirs.
"I have the Bible. Atheists have nothing. Atheists have no moral code. I win. You lose."
A black and white question like that is hard to respond to. Is it A or B? Well what if there's also a C, D, E or Z?

It's like the argument "Jesus must have been a liar, a lunatic or Lord" – it starts from a base full of assumptions, and posits three options that ignore the grey. It ignores the humanity of the writers of the Bible, the contradictions between gospels, the hundreds of books left out of the bible. It ignores the option that Jesus could have also been a great teacher, that the stories are part legend, at times drawing on myth to make points that are more true than literal truth. It ignores the historical context that the stories were told, that the chapters were recorded, and the book was edited and translated and interpreted today. I digress.
No, Atheists do not have a book of absolute, unquestionable and unchanging ethical codes. That's why they put an end to slavery. That's why women and children are now treated like people. That's why philosophers are continue to asking and re-ask: what is the "good life" we are aspiring to? and how can we live the good life with others, in just institutions?
For Mr Maroon, not having one book of unchanging ethics (whether they are cherry-picked from or not) is a sign of weakness, a sign of lacking morality, when in fact it is the opposite.
Ethics are not fixed, and the second they seem fixed then we really must be on guard!
Ethics come from culture, and return to culture, as a result of human evaluation and human mediation. We inherit their gifts, and their debts.
Of course Atheists, in rejecting the narrative of a separate "God" watching over us, haven't thrown the baby out with the bath water. No matter one's theological understanding, the cultural heritage (for better or worse) remains with us. In fact, critiques of environmental destruction point the finger at secular ethics being too rooted in biblical ethics. That is, the notion of us being separate individuals that will one day die was seeded in certain religious narratives (pre-dating Christianity, mind you), that have caused us to think ourselves separate from the ecological systems we cannot live without. But again, I digress.
The culturally-based notions of ethics and our entire ways of being, were evolving long before the Old Testament and long after the writing of the New Testament, are (lucky for us) still evolving today.
What is ethical and what is not is something we must constantly question, evaluate, adjust and re-evaluate.
The stories that were transmitted orally then recorded in text – histories, myths and fictions – have been, and still are, the basis of our morality, and deeper than that, our ethics. From these stories have sprung some of the most rotten and some of the most ripe fruits humanity has bore. The Dark Ages, the Inquisitions, the Crusades, slavery, war, extreme injustices and destruction, can be attributed to stories gone wrong, that have caused actions with horrible consequences – be they intended or not. Religious, political, fictional narratives contain power to bring pleasures and power to bring pain.
Narratives in books, films, songs, and conversation, allow us to imagine ourselves in different situations and imagine how we would like to be treated if that were us. Narratives of history allow us to see the devastation that not questioning certain narratives can be.
Let's refer to Mr Maroon's example of the killing of Jews in WW2: those living in Europe who accepted the narratives of their time and obeyed the law as if it were ethical, played a role in the destruction. Those who conformed rather than caused conflict about them, are the reason that such a horrible things were allowed to occur.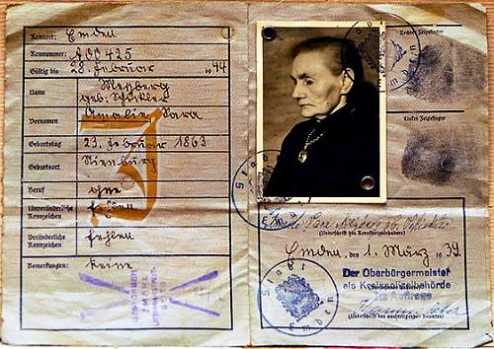 [1]
Others, like my Opa who (working in Holland at the time) said "no, it is NOT ethical to give Jews an identification with a big J on it as this will increase their chances of being taken away" and proceeded to work for the underground producing fake-IDs for Jews – was acting far more ethically than had he followed the moral of obeying the law.
As a side-note, given the common misconception, it is worth mentioning that Hitler's religious views are a matter of dispute. While it is common to think of Hitler as an Atheist, given that before WW2 he was promoting "Positive Christianity" – was a Nazi brand of Christianity purged of Jewish elements – and that his book and public speeches often affirmed his Christian faith… maybe that's a judgement worth rethinking.[2]
Ok, given all my tangents, let me sum up the above:
1. Ethics are not fixed – they should always be questioned or else bad things can be done in the name of ethics (slavery, murder, …) This requires a learning to think critically, and conflict rather than conform when it is necessary.
2. Atheists, theists, panentheists – people following any theology or lack of – require this constant re-evaluation of ethics and their moral application and implications.
3. Narratives are a useful way for this evaluation via imaginative variations to occur.
References:
Paul Ricoeur's book Oneself as Another among other books and podcasts on philosophy I'm into atm.
[1] Picture taken from http://www.warrelics.eu/forum/photos-papers-propaganda-3-reich/jewish-identity-card-w-info-death-owner-9814-2/
[2] http://en.wikipedia.org/wiki/Religious_views_of_Adolf_Hitler