If you read my last entry you will probably remember it was written in an exhausted and over-it state of mind. But, as we all know, for every down there is an up. You never know what is waiting for you around the next bend. Or who is going to pick you up at the Jaipur train station.
With my pack on my back and three bags in my hands, I stepped down from the half-moving train, and while scrambling to look in my notebook where exactly my meeting point is, a knight in a white turban holding a sign called out my name. He took my bags and directed me to his car, enthusiastically telling me stories about his experiences with Ayurvedic massage,  art, and hotels – some of his life passions.
Mr Singh is not just a driver, he is also the owner of the Hotel Pearl Palace, where I had prebooked my night (in India arriving at 1030pm one must be organised). Pushing through my tired state within minutes I found myself sitting in his rooftop restaurant enjoying an incredible view of the sparkling city lights, drinking beer and philosophizing about creativity, money, religion, opportunity, freedom, friendship and facebook. It was quite a spin-out.
White turbans, in case you didn't know (I didn't) are a sign of a Sikh. As is the surname "Singh" to which many Sikhs are called. Sikhism is an offshoot of Hinduism that started in the warrior-class around 500 years ago. Sikhs are very friendly, very passionate about their jobs, and have a strong attitude to work hard, share generously, and enjoy life. Well that's what the books say and my little experience with one confirmed the stereotype.
Mr Singh pulled out his laptop and showed me pictures of the new hotel he is building down the road: each room a different theme, from jungle-themes to karma-sutra and beyond. The golden key ring I was holding was his design, as was the chairs and tables n the restaurants, some resembling trees, others like hands… amazingly creative. Quite an inspiring character, I must say.
Eventually, after almost 24-hours on-the-go, I made it to my room.  I turned the A/C off and collapsed on the most comfortable king-size bed I've slept in in years. I looked across to the lavish artworks covering the walls, and up at the peacock feathered artwork plastered behind the fan above me – every single item in this hotel was clearly chosen with love and care. Am I staying in some expensive hotel? Nope. I paid a little extra for the air conditioner (not quite sure why I bother considering I always turn it off), and the night in what seriously felt like pure luxury, cost only 900Rs (about $20!). What a turn of events. Maybe India isn't so bad.
…
The next day I met Tom and Ben, fellow backpackers from England and Oz, at breakfast. We proceeded to spend the day shopping for gems and silver, fabrics and bags, as well as visiting a few forts and getting lost in local streets. These guys had been in India, and had the blokey had-enough-bullshit and not-gonna-take-no-shit-from-noone down pat. I'd never thought I'd take delight in hearing someone tell another person to "piss off" (the lightest of the language used). But I did. It was strangely satisfying, like some kind of revenge for all the rip-offs I'd experienced. Not to mention the power of true bargaining… "How much?" I'd ask. "1000 rupees" The shop keeper would reply. "200" one of my new friends cut in. "No way" the shop keeper would say, yet before long we'd settle on 300. I'd probably have paid the full 1000, or at least 900, had I not had these boys around. I have a lot to learn.

Wandering local streets was celebrity time again. But this time the tables had turned – it was the children, and the adults, who insisted I take their photo. Every time we thought we were done, they would pull us over to someone else and point and pose and smile. It seems there is a model inside everyone…
Actually this photo reminds me of that print ad for… I think it was Burberry… where Agnes Deyn and other models are jumping toward the fish eye…
When we finally escaped we became the Pide Piper…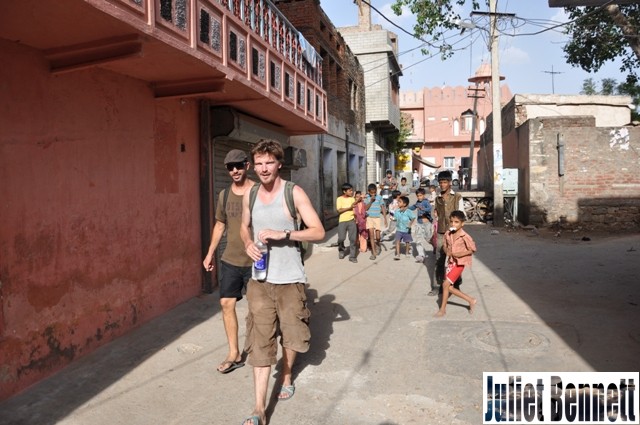 We did manage to squeeze in a famous array of Indian foods with a Rajistan Thali.
Check out a close up: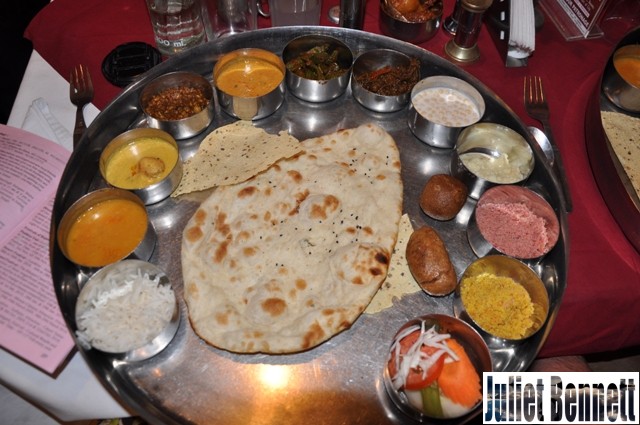 Thanks to this mind-body ayurveda connection I'm learning self control. I stopped when I was full which was long before the plate was done. I did try some of everything. The pink and yellow was the best. Sugary who-knows-what. Mmmm mmm!
Below is a couple more of my favourite candid shots:
Women ninjas…
So cute!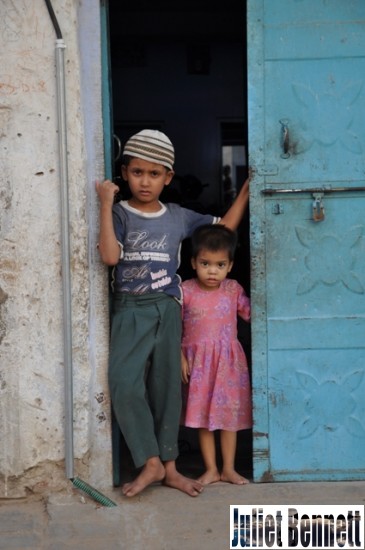 Maybe even cuter!!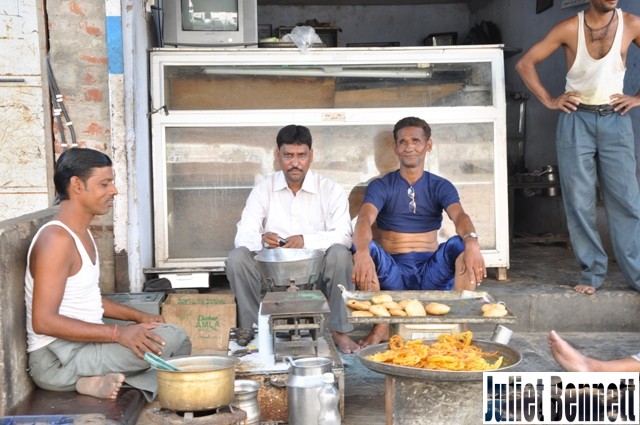 AUM…. AUM… Everyone's eating.
"What are you looking at?"
"I'll have what she's having."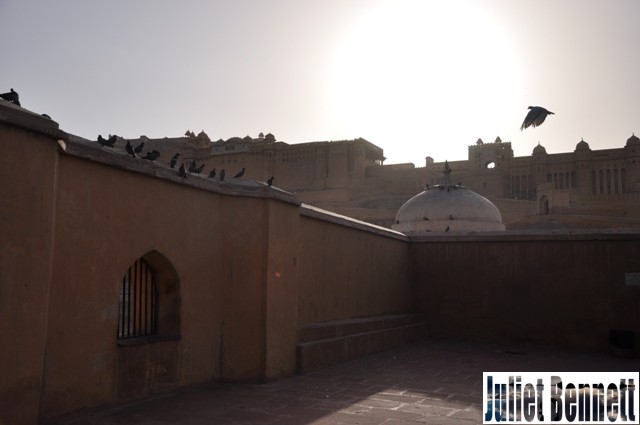 A fort.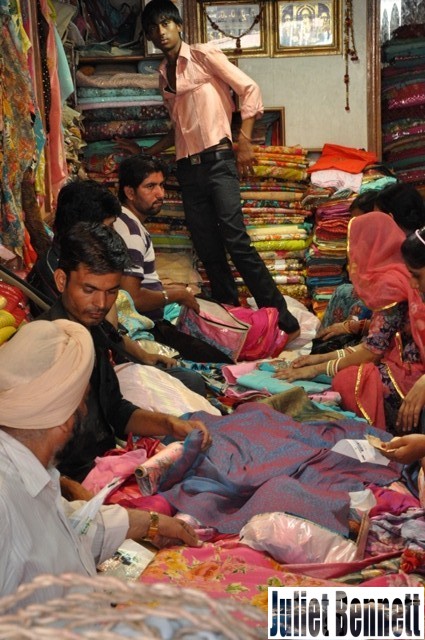 A shop.
The view from the top.