The way you answer the questions from my last post about the kind of modeling you might want to do, will largely determine the next steps you should take. Here are some tips on where to begin, and how to go about it…
Look for an agency:
Different motivations for modelling and different types of modelling require different approaches. In general you can google the type of modelling eg "fashion model" or "commercial model" or "swimsuit model" or "plus-size model" with the word "agency" and look through their websites for their processes re potential models joining their agency.
Agencies will have various open time casting calls and requirements. Often fashion agencies just want a very ordinary polaroid-like headshot and bodyshot emailed to them first. Try to be natural, with minimal makeup – a blank slate on which others can paint.
The top agencies won't charge you to join their agency. If they really like you then they will pay for your portfolio, and take it out of your pay. If they are unsure they may test you out with their photographer, but out of your pocket. The more every-day agencies that get extras jobs might charge you an administration fee (I think, I didn't join any except in Japan where they don't charge).
I suggest start with the top agency in your city, and if they reject you they'll give you a list of other respectable agencies to try.
Email or visit?
When I approached agencies in Paris I thought it would be best to visit in person rather than email, to "make a better impression". It doesn't really work like that. While the (many) agencies I visited took the time to look me up and down and flip through my portfolio, but the only agency that liked me was the one that had seen my polariods and asked me to come in. Save yourself the hassle of train rides and nerves – just email your shots. If they don't like them, try a different agency. If that doesn't work then try again in a year's time with different hair and when you've had more practice in front of the camera. Even polaroids get better when you know your angles and how to use your eyes.
Taking Polaroids

Often fashion agencies just want a very ordinary headshot and bodyshot sent. This is what is often sent to potential jobs to see if they want you to go to their casting (along with a comp-card with your accurate and appropriate measurements).
Here's an example of mine from 2006: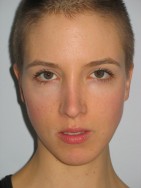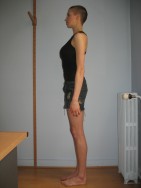 Sometimes polaroid shots are sent to potential jobs to see if they want you to go to their casting (along with a comp-card with your accurate and appropriate measurements). Take your point and shoot, find a plain wall and some natural lighting (the lighting in mine above isn't really very good with the shadows, but hey, I was in Japan when my boyfriend took these.
Measurements and requirements
I think everyone has the potential to be a model, but there are industry norms that will limit the type of modelling you are likely to be successful at – for example if you're 160cm there's little chance you'll be a runway model, and likewise if you're overweight. Measurements are particularly important in fashion modeling because the designers need to know that you'll fit their sample sizes. Have a look at the Comp Cards on Modelling Agency websites to check out how your measurements compare. Note that often these are fudged around 2 cm in one direction or the other, to fit the market (but no more than that)… On average fashion sizes are: bust 86-90cm, waist 58-64cm, hips 88-92cm. Proportions within those measurements are important too, and obviously in different markets different ideal measurements would apply… eg swimsuit bigger busts and hips; plus size bigger all over.
Tip #1 – Think outside the square.
Different countries have different definitions of beauty, and hence the models that designers and marketing people need will vary.
Australia – international looks, extra young, more striking facial features, less willing to take a risk

Japan – slightly shorter and smaller framed for high-fashion, they love "halfs" ie half Japanese half something else. Also lots of work for "gaigin" (foreigners) in TV, commercials etc.

Paris – more androgynous looks, flat chests

Italy – sexier looks with boobs and long hair

Vienna/Berlin/Barcelona etc – more willing to take a risk, easier to find into agencies

New York – the best of the best, exciting but it may eat you alive (I never tried)

LA – more Californian looks, I think. I didn't try but I went there to visit a friend and renew my Japanese visa and had a great time shooting with photographers from Model Mayhem.

China? Thailand? South America? Outer-space? Shave your head? Stay around even when it seems dangerous. One of my friends got her big break – a Vogue editorial – in New York just after 911. Who knows what, when or how it will happen!
Maybe (like me) you'll find an opportunity in a different country than your own, and in the most unlikely manner. I'd never have imagined hairdressers in Japan turning my hair green then purple, leading me to shave my head, might have been my "in" to modeling in Paris.
Tip #2 – Spend as much time as you can in front of the camera.

Have some fun with your camera, test out your abilities and see if you really do want to be a model.
Set up your own point-and-shoot, play with lighting and your expressions in the mirror, and take shots of yourself. Or get a friend to take some. Then connect with some amateur photographers to play with their SLRs with you. Copy poses and facial expressions from magazines. Learn your angles. Train your body to create shapes for the lens.
Do a Buddha: smile with all your organs, from the inside out. Or as they say: "smile with your eyes". Try to think about something, or someone, to distract you from thinking about the camera. Look deep into the lens and think about your boyfriend, or your favourite food, or someone you hate. Channel a real feeling / emotion.
Act for the camera. Dance for the camera.
Then email your head shot and body shot to an agency you think you'd suit, or turn up to their open calls.
Be confident when you enter. Carefree confidence, not arrogant confident. Know deeply that you are worth everything you believe you are worth (no more, no less). If you don't get chosen it's water off a ducks back: shrug your shoulders and when you're in the mood, try again. It's all a show! Life's a game, so play the characters you want to play.
Tip #3 – Network and play.
Models – photographers – makeup artists – stylists … all need to start somewhere to start.
"Test shoots" are practice shoots used to build up your portfolio and skills. Ask the photographer if you can look at the photos so you can study the relationship between you and the camera: what angles work and what don't, which expressions work and which don't, how you can create shapes with your body and the environment in relation to the angle of the camera.
A website I used to use a lot is www.modelmayhem.com. Set up your profile, comment on others' work, and get to it! I just checked and discovered my profiles are still online, though I haven't checked my messages in forever (not a good idea if you want to succeed in the industry).
Make lots of friends and don't burn your bridges – be polite and professional in every encounter. It's a small industry and a small world – although we live a short life I assure you if you network through these sites one day you'll run into these people on the street.
My old modelling port is still up: http://www.modelmayhem.com/171939 And my photography one: http://www.modelmayhem.com/516792 I'm very slack on checking mine so don't take offense if people you contact do the same.
Do as many test shoots as you can. See if you like being in front of the camera, see if you like the surrounding creative process, and start developing your skills.
Tip #4 – Do your homework and keep your wits
Storm (a top agency in London) has some good tips for staying safe and not getting jibbed. http://www.stormmodels.com/become-model-holder/become-a-model1
Look at the top model websites and study the models, the kind of work they are doing, and the shots being used to promote them. eg http://www.marilyn-ny.com/index.php#p=women
Watch FTV and Victoria Secret Shows. http://www.youtube.com/watch?v=4NMzE7cCigw
Study magazines and tear out the shots you like. Keep a file of your favourite photographers.
Have realistic expectations about modeling: it is like a never-ending series of job interviews. The jobs themselves tend to last a day or a week at best, and then it's back to the interviews. Prepare for rejection. When selected as an "option" don't get your hopes up. Jobs can be cancelled at any time until the day before, sometimes with a cancellation fee but all in all you will learn not to get too excited about anything until it actually materialises.
Most of all, while you might take the research seriously, don't take yourself or the whole modelling thing too seriously. Keep a sense of humour about it all. Enjoy it for all it's perks and quirks.
Tip #5 – Prepare an escape route.
If you can be very clear with yourself about what you want to get out of modelling, I think you can go in and get out in a way that it will work for you.
You don't need to wait to lose weight to start your time in front of the camera. The sexier you feel in your body, regardless of your weight, the sexier you will appear to others (including the camera).
My advice: it's better to regret something you did, then something you didn't do. So.. just do it!!!

Best of luck. Feel free to write questions on here and I'll do my best to answer them.