Stepping off an airplane we throw ourselves into completely different worlds. Like when we are born, except that when travelling we have a choice. It can be a shock to the system, forcing us to constantly adapt — to different temperatures, people, and ways of life.
Throwing myself from the small-town world of Hickory, North Carolina, via the buzz of New York, into the fast-paced mountain-view winter world of Vancouver for three weeks; directly into the hot humid horse-cart raw world of Nicaragua for three weeks; then back home to be whooshed into the world of family and close friends, where I've now been for three weeks… has led my mind down a rabbit hole of thought about the many worlds in which we dwell.
Heidegger writes about the situation of "thrownness" in which we find ourselves — born into a world that is always already there. Whether we like it or not, since the moment of conception we are growing into particular ways of relating to each other and particular ways of interpreting the things that surround us. Our essence, our identity, is inseparable from the matrix of relationships that comprise the many worlds we are absorbed in — even if we don't know it.
"My Scene", by Aussie hip hop artist Seth Sentry, made me think about the worlds within worlds within worlds within worlds in which we (by choice or default) have our being:
[youtube]http://www.youtube.com/watch?v=YnGYgWU_ieA[/youtube]
What's my scene? At this very moment, my scene is this: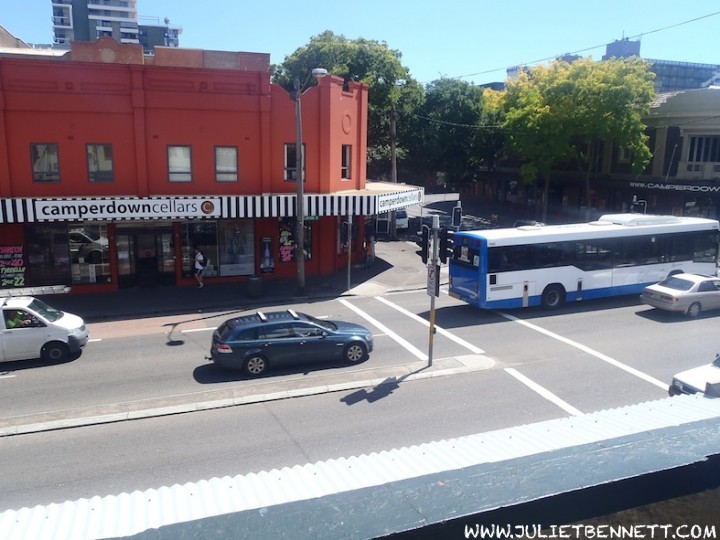 Well, that's the scene from my new balcony… talk about urban living! Inside the house is a little paradise, but more about that some other time.
My present task, now back in Oz, is to re-create my world to be the one in which I want to live. Some things have been easy to re-adjust to, like good coffee, hot showers, and putting toilet paper down the toilet (instead of a basket next to you). Other things are more difficult… noticing spider webs before you are covered them for example.
I've thrown myself into a mix of old and new: old and new jobs, old and new friends, a new room in a new location filled with my old furniture & belongings, a new wardrobe filled with new clothes from the 50s, 60s & 70s – from Nancy Sutton, a socialite who recently passed away at 94.
http://manly-daily.whereilive.com.au/news/story/designer-wear-under-hammer/
It's been fun. And to top it off this weekend I'm throwing myself into a world of sailing and sunshine in Jervis Bay. Now that's my kind of scene! Yep – it's good to be back in the Land of Oz 🙂