2am Saturday morning

Isn't it funny how when things change, it's usually overnight. One day I have a social life – like every day and every night filled with some kind of pre-organised plan. And the next – NOTHING. Not one little thing. Oh yeah, a sailing outing for my Dad's birthday, but that doesn't count. Family may be the most important thing in the world but they do not constitute a "social life."
So here I am, getting what I wish for, again. This time it's time. Time I had been missing due to social life, that I wanted to be spending in front of my books and computer. Then, I get time, and what happens? I'm bored. They do say to be careful what you wish for… that grass is always greener.
What do you do when most of your friends are hitched or pregnant and you don't even have so much as a little crush? While the logical answer is "turn back to your books", the more fun answer tonight was (borrowing a lyric from The Beautiful Girls) take the long way home…
"You want a lift to Central?"
"Porque no!" I answered, why not – my awesome new shoes had given me a blister so cutting my walk home into two wasn't a bad idea.
Jefferson, a fellow CPACS student, was going to a weekly event called Politics in the Pub at the Gaelic Club – something I'd always meant to check out but never quite made it. After 10-hours at uni (half work half study) a beer and opinionated people sounded far more exciting then going home to more books.
So I joined a room full of people, most over 60, to watch a doco on Tibet and listen to a young Tibetan tell his story (an issue I'll talk more about another day). Two beers later I found myself txting my Saturday morning running partner – about not going running. "What u up to 2nite?"
"Heading to Bavarian Bar on York Street to meet for beers with work mates. You're welcome to join."
When the political upheavals had settled down I replied… "Porque no!!!"
And before long I found myself walking down George Street, following Google Maps to York when (I kind of feel like I'm reading a child's storybook when I say this) on the way….
I realised (again) that walking down George Street I was a minority among mainly Japanese (confirmed when I overheard "Oskalasamadesu!") and Chinese and Korean and Indian and a few other nationalities mixed in there.
"I'm a tourist in my own city," I thought, recognising the (albeit slight) similarity to the evening's Tibetan speaker who spoke of needing an interpreter to travel in a taxi in his own country. His native Tibetan language was no good anymore – not even in Tibet 🙁 Don't get distracted Juliet – one story at a time.
So I thought I'd play a game and pretend I was a tourist in Sydney.
I stopped to take pictures with my iPhone – "that might be useful for something," I thought. Two beers on an empty stomach will do that.
By the time I reached York St I felt like I'd travelled back to Japan
-have you ever tried Pepper Lunch?
And Europe (a lot of Germans out in Sydney last night)
And Argentina….
The Argentineans were my favourite. I even went to the convenie to get some change to add to their stash. What a story!
These two adventurers had been through (see map above) South America, Asia, Africa, Europe, and now Oz. Soon to go home? NO! They had just started. Next New Zealand then Japan then China and Russia  and more of Africa and North America and the east coast of South America… Ahhhhhh!!!!! What a trip!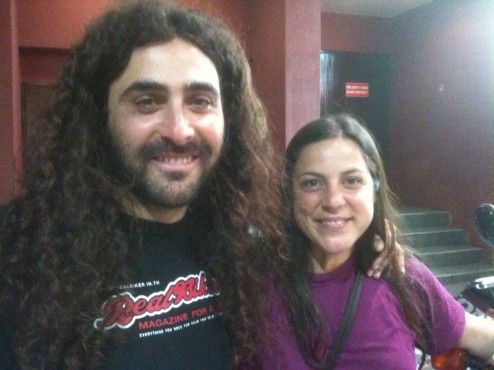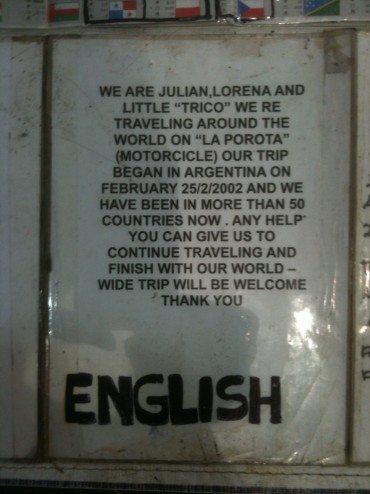 NOW THAT'S TAKING THE LONG WAY HOME!!!
Ok, back to last night…

Eventually I made it to the Bavarian Bier Cafe. Following a shared "taster" round of German beers, reminiscing Munich and Berlin, with my running friend and his buddies, it was time to move on. Home? Not yet.
"Grasshopper. Grasshopper. I'm sure I know that place…" I said, trying to figure out why. "You must have told me about it," I accused my friend, who has a habit of telling a lot of stories about Sydney nightclubs. It wasn't until I'd walked down the alleyway and my friend was knocked back entry (too many beers) that I realised why. "Oh my gosh!" I almost screamed (maybe I'd had too much too). "I took photos here!" Suddenly I realised why I knew Grasshopper – this was where the Inspire Ball was held – the "dress as something that inspires you" charity event. "Sydney's first laneway ball" – where I was the volunteer event photographer (if you follow this blog – the devil/angel yin/yang costume). Sorry that's totally useless information unless you happened to catch that entry of this blog. Anyway it was exciting for me, briefly, and then we moved on.
As time goes on and so do the night. In my retro black and fluoro pink sneakers, black mesh jacket, denim shorts and leggings (working at a university has it's advantages) I tagged along the bar up the Hilton (sorry Sydney, I totally forget it's name), and then to The Cross. Kit & Kaboodle (no idea how it's spelled) and the somewhere else, and now home.
Home sweet home.
"The best thing about a night out is the shower at the end of it," I remember a girl in a bathroom in some random club saying to me.
Given the choice I must say I do prefer a book or movie over and above a night among too many weird and wonderful people that go out to these places. Courtesy of my samba class dancing last night was A LOT OF FUN but I tend agree with the chick in the bathroom: the best thing about the night was the shower at the end of it.
One more comment, in case you are actually interested in someone else's own strange habits… it's now 2:30am and I'm finished my little rant on about whatever the heck I've filled almost three pages worth of words with. I am a little cold (sitting on the floor on my favourite cushion with a towel wrapped around me and my windows open) and VERY glad I have returned to my old habit of switching to water when I know I've had enough. Now I am ready for one final glass of water, a dash of moisturiser, and a good night's sleep.
What will tomorrow bring? I have a feeling it probably won't include that run.
Photo:
More about Julian, Lorena and Little "Trico"s long trip home at: http://porsiemprelamoto.terapad.com/
[youtube]http://www.youtube.com/watch?v=ZAHgMxkdIz4[/youtube]